On November 27, the Xifang Pavilion (430557) customer failed to pay according to the contract, which resulted in some unpaid payments and disputes with the labor service company, so the labor service company filed a lawsuit.
On November 7, 2015, Henan Legend Construction Labor Service Co., Ltd. (hereinafter referred to as "Legend Labor Service") and Xifang Pavilion signed a contract for the construction of labor services for the project. Ten thousand yuan.
After the contract was signed, the construction of Legendary Labor began, and Luoyang Huahai Nianhua Cultural Industry Co., Ltd. (hereinafter referred to as "Luoyang Huahai") failed to pay according to the signed contract. Xifangge and Luoyang Huahai repeatedly negotiated without reaching an agreement, resulting in Xifangge being unable to pay the legendary labor service normally, and the implementation of the project was stopped.
Under the above circumstances, Xifang Pavilion still paid most of the legendary labor services. As of now, there are still some unpaid amounts and disagreements with Legend Labor Services, so Legend Labor has filed a lawsuit in the court, and Luoyang Huahai is the third person.
Legendary Labor requested the court to order Xifang Court to pay 5.729 million yuan for the project and the interest loss of 436,000 yuan during the delayed payment period, and the legal costs in this case shall be borne by Xifang Court.
On June 20, 2018, the People's Court of Zhengzhou High-tech Industrial Development Zone in Henan Province ruled that the company and Luoyang Huahai Bank had frozen 6.165 million yuan in deposits or seized and seized other assets of equal value. Later Xifang Pavilion and Luoyang Huahai raised objections to jurisdiction, but both were rejected. The trial will begin in the morning of December 18.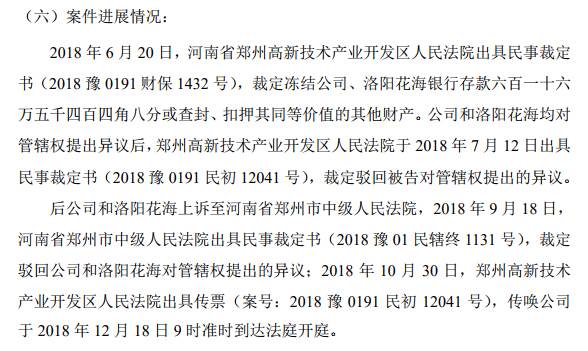 Xifangge said that it has already communicated with Legend Labor Service many times to try to minimize the impact of the matter on the company.
Xifangge is an enterprise engaged in urban ecological environment management. The main business is to build a sponge city, carry out ecological restoration and urban repair, and carry out roof greening, three-dimensional greening, and roof agriculture.
The Semi-Annual Report 2018 shows that Xifangge's operating income in the first half of 2018 was 1.33 million yuan, with a net profit loss of 890,000 yuan. At the same time, 150,000 yuan in monetary funds remain.